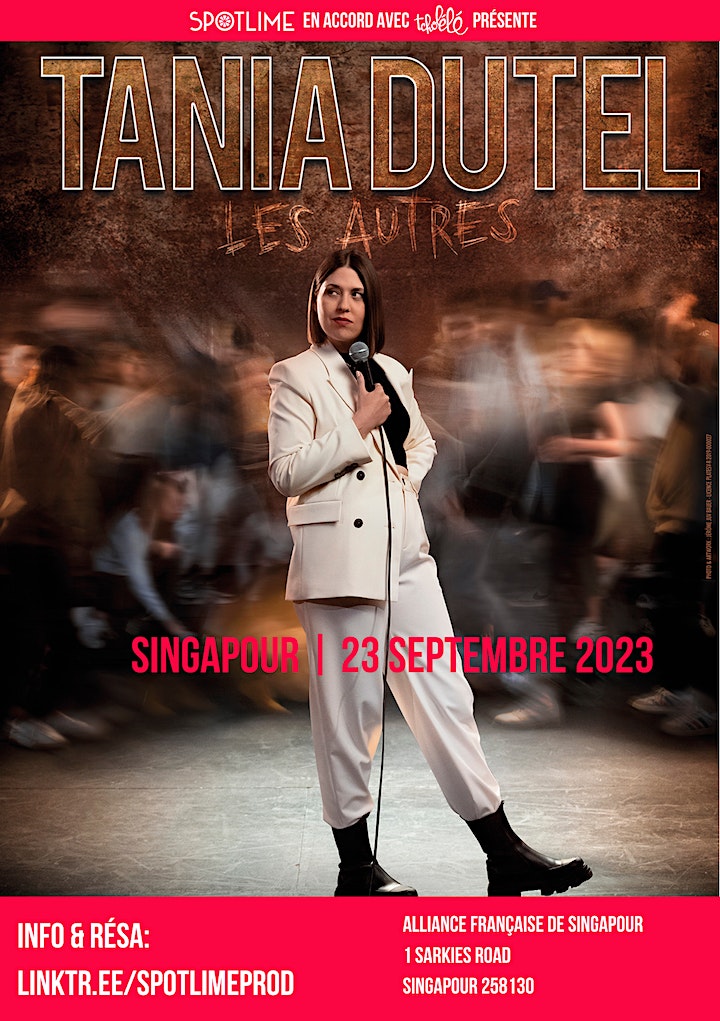 Tania Dutel in Singapore on September 23, 2023
315
315 people viewed this event.
About this event
The show
I only live for others. And you too by the way. Yes, yes, you live for others.
Why do you change your clothes every day? You saw well during the confinements that you stayed in your pajamas all day.
How long did it take you to make your seating plans for your wedding to avoid a civil war?
Has it ever happened to you on a winter Sunday, single, to say to yourself, "Hey, I'm going to take some time for myself, I'm going to wax my legs"?
And finally, are we talking about hair implants?
You see, you live for others. And these others are ruining my life. I made a show out of it.
Tania Dutel
—————-
Note: not a very family-friendly show and not recommended for children under 16
The comedian
After having scoured all the Parisian comedy sets every night of her life thanks to a total absence of social life, Tania has become essential on the Stand Up scene in France.
In 2019, she played her show in Montreal on the occasion of the biggest French-speaking festival: Just for Laughs.
She is also one of the 4 comedians chosen by Netflix to represent French stand-up in their production "Humoristes du monde".
Tania faces the cancellation of her Las Vegas tour scheduled between March 2020 and June 2021 following the sudden shutdown of all cultural life on the planet. She then begins to take Italian lessons, it has nothing to do with it but it kept her busy.
She is currently on tour and will perform her new show "The Others" in Asia in September 2023.
(It is possible that some information was inspired by the life of Celine Dion).
Ticketing information
Date: September 23, 2023, at 8 p.m.
Prices :
• 65 SGD in presale until June 4, 2023, at 11:45 p.m., or within the limit of available places
• 75 SGD in the standard ticket
Address: Alliance Française Singapore Theater, 1 Sarkies Road, Singapore 258130
Show in free seating.